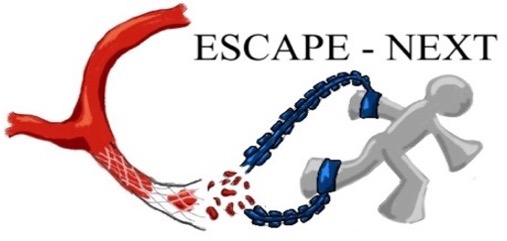 A Multicentre, Randomized, Double-blinded, Placebo-controlled, Parallel Group, Single-dose Design to Determine the Efficacy and Safety of Nerinetide in Participants with Acute Ischemic Stroke Undergoing Endovascular Thrombectomy Excluding Thrombolysis (ESCAPE-NEXT Trial)
Lead PI: Michael D Hill (Canada); Henry Ma and Ronil Chandra (Australia)
Participating Australian and New Zealand Sites:
Brisbane (PAH), Gold Coast (GCH), Melbourne (MMC), Newcastle (JHH), Adelaide (RAH), Perth (FSH, CGH)
Status: Recruiting, ASTN endorsed
No. of Patients Currently Recruited: 41                                No. of Patients Required: 1020
The ESCAPE-NEXT trial is a randomized double-blind study for patients with acute ischemic stroke due to anterior circulation large vessel occlusion.  The trial will test the compound, nerinetide vs placebo, to assess whether it is improves functional outcome at 90 days as measured on the modified Rankin Scale.  The study follows on from the ESCAPE-NA1 trial and seeks to replicate the findings observed in the non-thrombolysis stratum.
The study is operating globally in North America, Europe and Australasia.  The trial overall sponsor is NoNO Inc who manufacture nerinetide.  The University of Calgary is the academic coordinating centre.  IQVIA Biotech is the global CRO.
Trial URL: https://escape-next.dctms.ca/